Implementation period: January, 2014 - December, 2016 (Completed)
Geographic coverage: Barbados, Jamaica, Trinidad & Tobago
Building capacity and Regional Integration for the Development of a Generation of Entrepreneurs (BRIDGE)
The demand for energy in the Caribbean region is expected to increase by 3.2% annually in the next two decades. Similarly, the mix of energy sources (which for the most part has been highly fossil fuel dependent) is likely to be diversified to include more RE sources. BRIDGE is a skills, education and knowledge transfer partnership project aimed at helping Caribbean regions get ready for a sustainable future. This BRIDGE programme aims to help meet demand for technicians, professionals and entrepreneurs in the Sustainable Energy and Information and Communication Technology (ICT) sectors by investing in gender equality and innovation.
Trinomics led a technical and professional capacity baseline analysis. This task aimed to provide a comprehensive picture of the current human capital and employment opportunities (and the needed skills) related to sustainable energy in Jamaica, Trinidad and Tobago and Barbados. The assessment included a review of national policy documents and information received from eight tertiary educational institutions, interviews and surveys (including both industry and education stakeholders).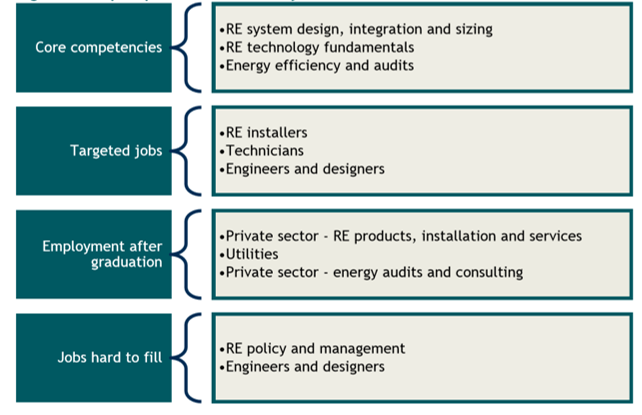 Key findings of the research can be summarised as follows:
All surveyed educational institutions have (or are planning to have) a sustainable energy program in place, though lack of funding for teaching lab equipment is considered a major barrier. In addition, instructor training and curriculum development is needed.
Based on the survey responses, it appears that educational institutions and industry priorities overlap. However, 50% of industry respondents indicate that current institutions do not meet their training needs and 100% currently utilizes in-house training for its workforce.
The education and industry institutions agree that an "ideal situation" for the development of sustainable energy is more collaboration between educational institutions and industry as well as more practical experience and internship opportunities for students.
The report concludes with a set of specific recommendations for the UWI-university system as the key BRIDGE program beneficiary. It recommends increasing faculty levels and putting more emphasis on technical and applied teaching. Finally, it is recommended that the tertiary educational institutions overall coordinate their efforts in the SE field in order to avoid overlap and optimize use of limited educational resources.