Implementation period: January, 2014 - December, 2015 (Completed)
Geographic coverage: The Netherlands
Can Public-Private Partnerships contribute to inclusive green growth?
Public-Private Partnerships (PPPs) have become increasingly popular in government policy. The expectation is that PPPs will enhance the efficiency of public good provisioning, improve local representation and increase the overall effectiveness of international cooperation and development aid. The Dutch Ministry of Foreign Affairs promotes partnerships in the water, food security and energy sectors. This evaluation explores whether these partnerships address the objectives of Inclusive Green Growth in their plans and actions, and reflects on the opportunities and constraints for strengthening their impact. The study also examines added value and risks of a PPP compared to a 'conventional' development project. It was performed together with Aidenvironment.
This publication aims to clarify the concepts of 'green growth' and 'green economy', especially regarding their political and social significance. It explains the concepts, definitions, debates and actions regarding green growth and gives recommendations for the Dutch government on how to stimulate the development of green growth in the Netherlands.
Download report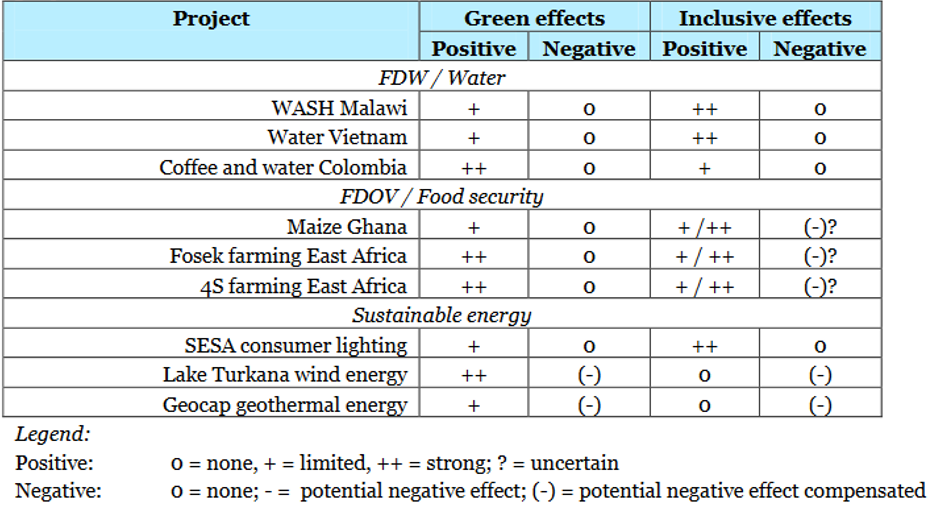 Key findings of the research can be summarised as follows:
All PPPs show positive green and inclusive effects, with the exception of two large energy projects that were more designed as green rather than as inclusive projects. Negative effects are either not there or will be mitigated by appropriate procedures.
The interests and roles of private sector parties in PPPs are related to the underlying business model, with strengthening of existing markets or creation of new markets with green and inclusive objectives as two relevant mechanisms. Either of the two ways can work for creating a long-term interest for the private parties to continue on a commercial basis with the sustainable business activities initiated in the PPP.
Many PPPs address systemic issues related to underlying market and governance failures, which is relevant in view of the need for strengthening the long-term viability of the business model and for stimulating further upscaling.