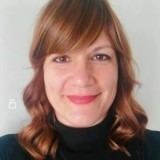 Petra Remeta is a Senior Consultant at Trinomics.
Petra is a senior consultant at Trinomics with background in hydrology (BSc) and environmental management (MSc). She has worked on sustainable development topics since 2009, holding progressively more responsible roles that started in private sector and in 2014 continued in the not-for-profit sector. Petra joined Trinomics in March 2023.
Initially working as renewable energy development expert, Petra transitioned to wider sustainability topics through focused engagement on environmental protection, conservation of natural resources and climate agenda. This engagement entailed both thought leadership, as well as guidance and practical application of knowledge to designing solutions, closing gaps to achieve the best practices, and improving or mitigating impacts of various development initiatives on environment and local communities. She worked on multiple natural resource management topics, from freshwater and marine ecosystem, to forests and protected areas, developing, implementing or advising on a diverse set of approaches to enable their sustainable management and use, such as innovative co-management and co-design approaches, and designing innovative funding models to support environmentally friendly and nature positive development.
At Trinomics, Petra's primary focus is water, spanning topics from water policy, management and use practices, and quality and quantity concerns, both directly and in an interplay with nature conservation and economic development.
Sustainability is both a science and an art: science when it comes to defining balanced goals based on equity and fairness, and an art when it comes to securing that others accept and adhere to needed compromises.
Meta-Topics:
Environment
Climate change
Topics:
Water
Nature and biodiversity
Nature based solutions