< BACK
Irati Artola is Consultant at Trinomics.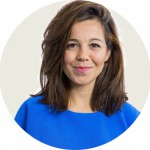 Irati is a sustainability advocate.
Irati works mainly in projects of the environmental pillar of Trinomics (on topics such as waste, air quality and the circular economy), but every now and then contributes to energy and climate-related studies within Trinomics. Her work includes policy analysis, programme and policy evaluations, stakeholder consultations and (access to) funding (mechanisms).
Currently, she is coordinating the large H2020 Research and Innovation European project ClairCity (Citizen-led air pollution reduction in cities) while contributing also to the work package (WP) on policy and governance, and the WP on citizen engagement. This is a 4-year, 16 partners, air quality and CO2 emission reduction project with a bottom-up approach that involves citizens and other stakeholders in order to advance policy at the city level. Irati has contributed to evaluations of the European Environment Action Programme, supported the implementation and evaluation of the BUILD UP Skills programme on advancing the skills of the construction sector blue-collar workers in the field of energy efficiency and renewable energy, and contributed to the market analysis of industrial symbiosis and secondary materials.
Irati graduated from the Master of Science in Sustainable Development (Environmental Governance track) at Utrecht University and has a prior Business Administration and Management background.
Irati is both a Spanish and Basque native speaker, proficient in English and can also hold conversations, read and write reasonably well in Dutch.
Recent projects