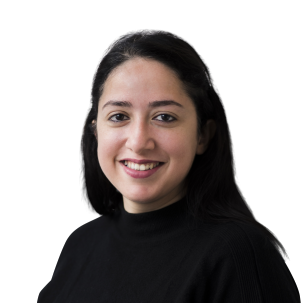 Marwa Mahmoud is a Consultant at Trinomics.
Marwa Mahmoud is a Climate Change Consultant at Trinomics; with 10+ years of professional experience in in the fields of Environmental Engineering, Energy Management, Climate Change, Solid Waste Design and Green Buildings Assessments. She joined Trinomics in 2019, and given her chemical engineering background and industrial expertise, she worked on the project "Assessment of potential carbon leakage in the 3rd and 4th phase of EU Emissions Trading System" a DG-CLIMA project, where she worked on the identification and calculation of potential abatement measures/costs for 10 energy intensive industrial sectors at risk of future carbon leakage in phase 4 of the EU ETS and she prepared industrial sector's factsheets for chemicals and non-ferrous metals sectors. She also supported an "Impact assessment on measures to address the risk of carbon leakage in the light of any increase in climate ambition" for 10 energy intensive industrial sectors, DG CLIMA project. Furthermore, she is currently participating in a study for "The role of energy taxation and prices for the clean energy transition in the context of sector integration and carbon border mechanisms: Energy system modelling and future scenarios", a DG ENER project, which will be evaluated for specific sectors with a focus on energy intensive industries (including iron and steel sector). She also participated as an Egyptian Local Expert in the project "Circular Economy in the Africa-EU Cooperation" .
Furthermore, she is currently working on the project "CIR©LEAN: European network of businesses and SMEs for industrial symbiosis, a DG-GROW project, where she is involved in the development and launching of methodologies for reporting on Industrial Symbiosis. She is also involved in the impact assessment on "Sustainable Product Initiative (SPI)" with specific focus on the development of a digital project passport (a DG-GROW project). She also participated in the project "Support to the preparation of Territorial Just Transition Plans in Sweden" with a specific focus on cement sector.
Prior to joining Trinomics, she worked mostly in developing countries, where she participated as a climate change expert in the project "Developing the National Framework of Low Emission Development Strategy for Egypt (LEDS)" (UNDP project); with a specific focus on the industrial (including iron and steel), petroleum and waste sectors. She participated in other climate change mitigation projects in Egypt, including the preparation of NAMA information notes (NINO), NAMA Design Documents and GCF Proposals for upgrading of the several industrial projects in Egypt. Moreover, she is a certified energy expert (by the UNIDO), specialized in establishing and implementing energy management systems at industrial facilities according to ISO 50001 standard. She also participated in and managed the preparation of Environmental and Social Impact Assessment Studies for several industrial facilities in the MENA region.k.
Marwa obtained her Diploma in Environmental Engineering from the American University in Cairo, with a prior Bachelor's degree in Chemical Engineering. She is also certified by the UNIDO as an energy management expert in the implementation of energy management systems in accordance with ISO 50001.
"I am delighted to have the opportunity to contribute in mitigating climate change."
Meta-Topics:
Climate change
Environment
Circular economy
Energy
Topics:
Carbon pricing
Emission reduction pathways
Climate agreements and policies
Energy efficiency
Sustainable production & consumption
Waste