< BACK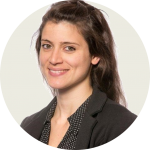 Federica Gerber is a Consultant at Trinomics.
Federica Gerber works as a Consultant at Trinomics. She has been involved in projects for various international clients, including the European Environment Agency and DG RTD. Federica has multidisciplinary expertise in energy, environment and climate change. Federica's work experience, in particular in the Pacific region, has provided a hands-on grounding in climate change adaptation and mitigation.
Federica joins Trinomics after several years as an Environmental Specialist at Shell based in the Netherlands, Italy and Brunei. Prior to that, Federica was an Environmental Consultant at Ecorys in Rotterdam, focusing on water and environment projects. Federica has also worked in the UK, having spent one year as an Environmental Risk Analyst at Maplecroft, and in the Fiji Islands, as a Natural Resource Economist under the 2-year ODI Fellowship Scheme.
Federica graduated as Master of Science in Environmental and Resource Economics at University College London with a thesis in Wetland Mitigation Banking. She also holds a BSc in Environmental Policy with Economics from the London School of Economics and Political Science. Federica is a dual Swiss and Italian national and has native/fluent competence in English, Italian and French.
Recent projects