< BACK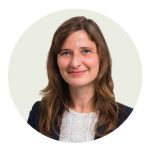 Elske Veenstra is a Consultant at Trinomics
Elske focuses on green growth and climate change topics. She is working mostly for the European Commission and the Government of the Netherlands on exploring policy options and development paths towards a low-carbon, green economy. She is co-author of a publication on Green Growth and has experience in policy analysis (particularly regarding climate-related development cooperation and climate finance), competitiveness studies, policy evaluations and financial feasibility analysis.
She previously worked at the Climate and Environment department of the Ministry of Foreign Affairs of the Netherlands, where she mapped all financial flows of the government's Official Development Aid that were related to environmental and climate change goals, and developed a methodology for measuring private climate finance that has been mobilised by public investment. At Trinomics, Elske has built on this expertise with further research and pilot studies for The Netherlands, Denmark and Belgium.
She gained academic knowledge on the links between policy and governance, economics and EU and international law during her Bachelor and Master in International Relations and International Organisation at the University of Groningen. She wrote her thesis on the possibilities and limitations for private investment in renewable energy projects in the EU in times of economic contraction.
Recent projects