< BACK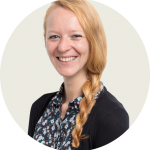 Carmen van den Berg is a Consultant at Trinomics.
Energy topics are Carmen's area of expertise. She has experience with energy policy analysis, in particular policy evaluation. Quantitative skills are Carmen's strong feature, but she is also experienced with collecting and processing qualitative stakeholder information. Most of the projects she has been involved in focused on Europe, working with international clients like the European Commission (DG ENER) and the European Environment Agency (EEA).
The main energy project Carmen contributed to at Trinomics concerns the evaluation of the TEN-E Regulation (Transmission-European Networks for Energy). Besides energy policy, her academic research background is adaptable to a range of other areas, like climate finance. She gained considerable experience in this field assessing domestic climate finance tracking in Europe.
In 2017, Carmen graduated cum laude as a Master of Science in Sustainable Development (focus area: Energy & Materials) from Utrecht University. Her concluding master thesis was on the 'decomposition of historical carbon emissions in the Netherlands'. She holds a bachelor degree in Science and Innovation Management, also based in Utrecht. Carmen's home base is in Rotterdam and her native language is Dutch.
Recent projects